love-advice
Expert in: three of cups
I have been helping individuals since the age of fifteen. I have a place from an otherworldly family and however I have normal conceived capacities an
Chat Now
Offline

Currently Busy

Psychic-Bright
Expert in: three of cups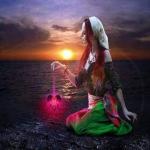 Relationships can be the most challenging, but also the most rewarding part of life. I'm here to help navigate you through those sometimes rough
Chat Now
Offline

Currently Busy

Psychic-Althea
Expert in: three of cups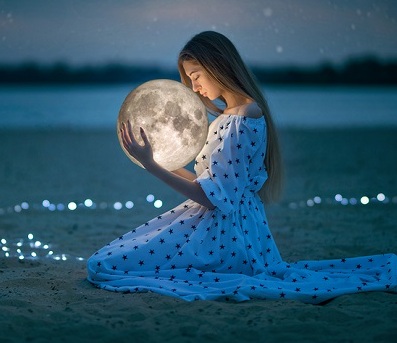 I am 3rd generation Gifted Spiritual Reader. Since I was a child, I have been able to tap in to my spiritual guides to help get answer for my clients
Chat Now
Offline

Currently Busy

The Three Of Cups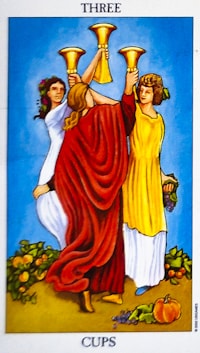 The Three of Cups symbolizes achievement and celebration. This card shows three young women who are dancing in a circle. They have golden cups in their hands as they are raising a toast to happiness. This is showing their friendship with each other. There are fruits on the ground as it depicts a general feel of celebration. Every woman has a garland of laurel on their heads. Garlands are a symbol of triumph and success. Laurel is a symbol of safety, harmony and cleansing. The flowers on the ground indicate joyous times and success. It shows that life is full of good things if we are open to them.
Personality traits indicated
Celebration, companionship, creativity, community, an affair.
Upright indication
The Three of Cups indicates friendship, so it is a time when you start helping others as it also means you are open to let others help you. It is about caring for your close and dear ones and spending time with them. This card strongly depicts friendship. It shows how friends look out for each other, help each other and stand with each other through the test of time. So it tells you to be with your friends, family and loved ones.
Reversed indication
The three of cups reversed often means the involvement of a third person in a relationship. It strongly indicates an affair. It suggests that either you are that third person involved here, or you have an unfaithful partner that you are dealing with. This situation suggests the use of other cards for a more detailed perspective of the relationship. For instance, if a seven of cups draw with this, it means disloyalty. This means you need to open your eyes and take a strong decision about what you really want to do.
Zodiac connections and key dates
Connected zodiac sign is Cancer. Key dates are July 2 to July 12.