LifeClarity
Expert in: suit of cups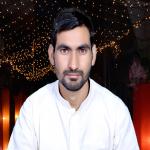 I'M FAST, ACCURATE & HONEST IN MY READINGS. NO FALSE HOPES. ONLY TRUTH NOTHING LESS.WHAT I SAY COMES TO PASS WITHIN SPECIFIED TIME FRAME IN MOST C
Chat Now
Offline

Currently Busy

Psychic-Synergy
Expert in: suit of cups I'm here to guide and help you in every matter. If you want in-depth answers to clear the confusion, call now. Let's create a fantastic future! I am a
Chat Now
Offline

Currently Busy

Psychic-Angel
Expert in: suit of cups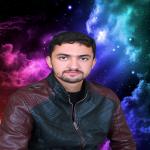 Allow me to explain the Truth to you about any question on any subject…Relationships, Dreaming, Finance, Life Paths, Spiritual Connecti
Chat Now
Offline

Currently Busy

The Suit Of Cups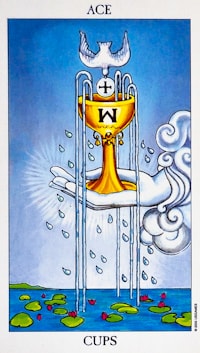 In latin-suited playing cards, four suits are used. The suit of cups also known as the suit of goblets is one of them. It is a part of the Minor Arcana. The major arcana shows the greater turning points whereas the minor arcana shows activities on a day to day basis. In tarot, the Suit of Cups symbolizes the element of water.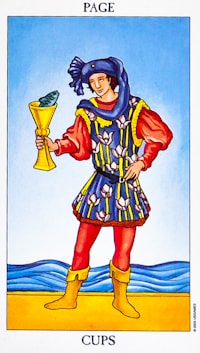 Basically the Suit of cups shows the emotional level of perception. These are also linked with feelings like love and relationships. Cups also depict show of emotion, expressing feelings. They also indicate whether you are thinking through your heart instead of your brain. They also show your instinctive response in situations. As far as traits are concerned, cups show creativity, imagination, and romanticism.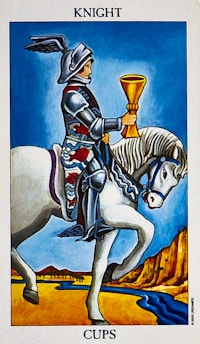 Traditionally the cups signify autumn and the west. The people who are represented by the suit of cups are creative, sensitive, kind and artistic. They have a strong inner conscience and they feel an energy within. They are driven by the zodiac water signs such as Cancer, Pisces and Scorpio. The cards in the Suit of cups are:
Ace or One-Ten of cups
Page of cups
Knight of cups
Queen of cups
King of cups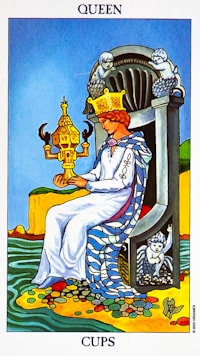 When the cups seem reversed then the negative aspects are indicated. These include too imaginative, over emotional, disconnection to the surroundings. Lack of creativity and not being able to express one's feeling are also indicated. The cups also indicate that the person is looking for solutions to emotional conflicts which primarily involve love and relationships.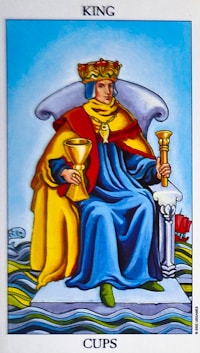 Upright position indications:
Love, compassion, creativity, overwhelming, Fantasy, illusion, wishful thinking, choices etc.
Reversed position indications:
Blocked or repressed emotions, stifled creativity, Greed, dissatisfaction, materialism etc.
Reversed indication
Zodiac connection and key dates
They are driven by the zodiac water signs such as Cancer, Pisces and Scorpio. There are no key dates specified.