LifeClarity
Expert in: seven of cups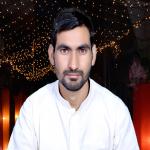 I'M FAST, ACCURATE & HONEST IN MY READINGS. NO FALSE HOPES. ONLY TRUTH NOTHING LESS.WHAT I SAY COMES TO PASS WITHIN SPECIFIED TIME FRAME IN MOST C
Chat Now
Offline

Currently Busy

The-Divine-Soul
Expert in: seven of cups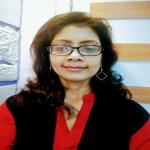 Detailed results through genuine reading , truth and no sugarcoating delivered with quick connections by world renowned astrologer. Let me help your s
Chat Now
Offline

Currently Busy

Psychic-Synergy
Expert in: seven of cups I'm here to guide and help you in every matter. If you want in-depth answers to clear the confusion, call now. Let's create a fantastic future! I am a
Chat Now
Offline

Currently Busy

The Seven Of Cups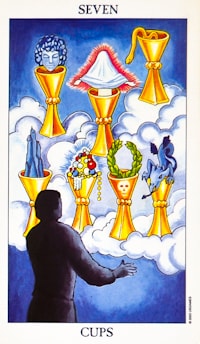 The Seven of Cups portrays a man who faces an extraordinary and shadowy presence of images from the seven cups floating around in the clouds. Here clouds represent ideas, thoughts, dreams. We cannot see the face of the man but his gesture suggests that he is in surprise. The different images from the cups are both positive and negative symbols. Every cup has a single item, a snake which portrays knowledge and wisdom; a covered figure indicating it needs enlightenment; a head indicating acquaintance of a wizard; a tower showing constancy and strength; treasure indicating wealth; a laurel headdress, representing triumph and prominence; and a dragon indicating paranormal forces. Even though the cups look as if they are gifts, it seems like a danger for anyone who comes closer. It implies the sometimes you have many options to choose from. Each may look the right one but there is only one correct.
Personality traits indicated
Fantasy, illusion, wishful thinking, choices, imagination.
Upright indication
The Seven of Cups shows that the images in your thoughts are not only something of imagination but are closely related to the real world. You are a dreamer who is seeing the splendor and pleasure as well as hardships and dilemmas of the future. It's good to dream but you should not get caught up in them to lose track of reality.
Reversed indication
This card is also seen as a wish card. Every cup is packed with wishes such as riches, attractiveness, victory, and comfort. Though every cup is not having a positive outcome. There is a snake which is sign of danger. So this can be a mixed package. This card is referred as temptation also, as there are so many items to choose from. It can be difficult to make the right choice and make a wrong move. One has to keep in mind that temptation gives temporary pleasure and has serious consequences.
Zodiac connections and key dates
Connected zodiac sign is Scorpio. Key dates are November 13 to November 22.