Psychic-Synergy
Expert in: queen of cups I'm here to guide and help you in every matter. If you want in-depth answers to clear the confusion, call now. Let's create a fantastic future! I am a
Chat Now
Offline

Currently Busy

Psychic-Angel
Expert in: queen of cups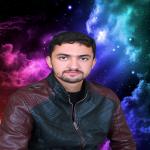 Allow me to explain the Truth to you about any question on any subject…Relationships, Dreaming, Finance, Life Paths, Spiritual Connecti
Chat Now
Offline

Currently Busy

LifeClarity
Expert in: queen of cups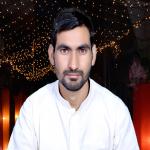 I'M FAST, ACCURATE & HONEST IN MY READINGS. NO FALSE HOPES. ONLY TRUTH NOTHING LESS.WHAT I SAY COMES TO PASS WITHIN SPECIFIED TIME FRAME IN MOST C
Chat Now
Offline

Currently Busy

The Queen Of Cups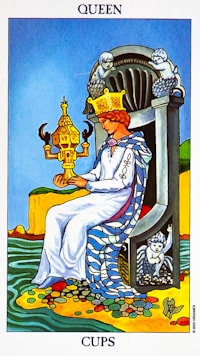 The queen of cups tarot card is principally the ruler of the region of emotions. She is a very beautiful and thoughtful woman. In the queen of cups tarot card, she is sitting on a chair suspended at the end of the sea. In her hands, she is holding a stunning cup. The cup has a closed lid, which specifies that the opinions are instigating from the unconscious, from within her own soul. She is sitting there alone while looking at the cup. She is holding that cup with both of her hands. There are a lot of different symbols on her throne. The sea and fish here epitomize the unconscious mind and water portray emotion, inner self, and emotion.
Personality traits indicated
Honest, Emotionally stable, peaceful, instinctive, sympathetic
Upright indication
The Queen of Cups signifies accomplishments which are made possible by using imagination and creativity. This woman is very creative and possess an artistic mind with a passionate and romantic perspective on things. She likes good music, literature and nature. She inclines towards thinking with the heart rather than the brain. Although not high on intellect she is very intuitive.
Reversed indication
The reversed Queen of Cups indicates that you may be not in control of your emotions or that you are restricting your true feelings. You are not able to express yourself in an effective manner and, as a result, suppressing it all inside. You have to deal with these emotions as soon as possible or else it will result in an outburst. It also represents unhappiness and frustration. Like a disconnection from your inner self. The answer is simple as you have to listen to your inner thoughts and follow the path that your heart guides you with faith.
Zodiac connections and key dates
The connected zodiacs are Gemini & Cancer. The indicated key dates are 11 June to 11 July