Psychic-Angel
Expert in: nine of cups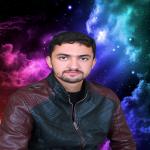 Allow me to explain the Truth to you about any question on any subject…Relationships, Dreaming, Finance, Life Paths, Spiritual Connecti
Chat Now
Offline

Currently Busy

Psychic-Althea
Expert in: nine of cups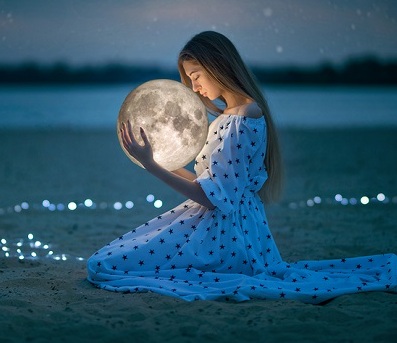 I am 3rd generation Gifted Spiritual Reader. Since I was a child, I have been able to tap in to my spiritual guides to help get answer for my clients
Chat Now
Offline

Currently Busy

Psychic-Synergy
Expert in: nine of cups I'm here to guide and help you in every matter. If you want in-depth answers to clear the confusion, call now. Let's create a fantastic future! I am a
Chat Now
Offline

Currently Busy

The Nine Of Cups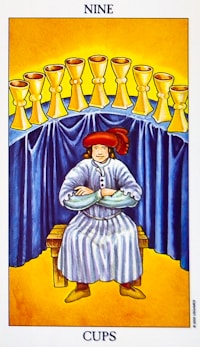 The nine of cups shows a mid-aged man sitting on a bench and looking content. He is nicely dressed and his expression shows a level of satisfaction. There are nine golden cups on a wall behind him. This card represents contentment and satisfaction. This shows nothing permanent but it indicates that you are on the right path and happy where you are. This shows that you have accomplished your goals and are happy with the result.
Personality traits indicated
Complete, Content, Liberal, Desire, Happiness, comfort.
Upright indication
The cup of Nines normally represents individual uprightness and accomplishment. It also shows that either you have reached your goal or in the process of almost getting it. While the final stage may be a little hard but with the help of experience and intuitions you can get through this also. You are going to do a lot of thinking on various ideas. There has to be a balance between thinking and doing to achieve the goals.

This card also shows pandering into the treats of life. This may indicate good food, arts, love, and beauty. As always maintaining balance is crucial in this situation too.
Reversed indication
When drawn reversed, the nine of cups shows disappointment. It shows that your wishes are not taking shape as you expected. Your wishes should be impractical or you may not be trying hard to pursue your dreams, just hoping for some miracle to happen. It also indicates greed and not caring about others. It shows your behavior is affecting others. You should be considerate and think before you behave in a certain manner.
Zodiac connections and key dates
Connected zodiac sign is Pisces. Key dates are March 1 to March 10