LifeClarity
Expert in: knight of cups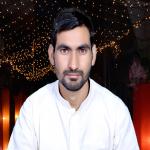 I'M FAST, ACCURATE & HONEST IN MY READINGS. NO FALSE HOPES. ONLY TRUTH NOTHING LESS.WHAT I SAY COMES TO PASS WITHIN SPECIFIED TIME FRAME IN MOST C
Chat Now
Offline

Currently Busy

The-Divine-Soul
Expert in: knight of cups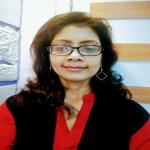 Detailed results through genuine reading , truth and no sugarcoating delivered with quick connections by world renowned astrologer. Let me help your s
Chat Now
Offline

Currently Busy

Psychic-Synergy
Expert in: knight of cups I'm here to guide and help you in every matter. If you want in-depth answers to clear the confusion, call now. Let's create a fantastic future! I am a
Chat Now
Offline

Currently Busy

The Knight Of Cups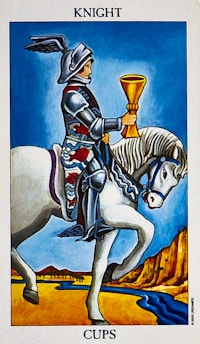 The Knight of Cups tarot card is represented as a young knight, riding on his white horse. The knight has a cup in his hand and it seems like he is carrying some sort of important message. He is not trooping in a hurry as the other knights in the suits of tarot cards, but he is moving bit by bit displaying placidity and control. In this card, the horse represents strength, vigor, and energy. The white color of the horse indicates cleanliness, holiness, and light. The cloak he is wearing is covered with patterns of fish which signify the soul, consciousness and ingenuity. Creative imagination is shown by wings on his helmet and shoes. The knight of cups tarot card holds a special place in tarot card readings.
Personality traits indicated
Decent, Romanticism, appeal, savior, bravery, creativity, charming.
Upright indication
The Knight of Cups is only card of the knights with a feminine side. It indicates that he is in check with his emotions and sensitivity. He utilizes this in romantic situations. As being charming is his trait and regardless of what gender they are, they express their feelings quite clearly in a poetic and romantic way. They truly are in love with their personalities and don't have any issues with inner self. He is strongly guides by his heart and not by his mind. This also reflects in his decision making. He possesses a positive energy which truly entices the person he comes in contact with.
Reversed indication
When the Knight of Cups is drawn reversed it shows that he lets his emotions get the best of him a much too often. This also indicates mood swings, jealousy. He jumps to conclusions a little too early before even looking at all the details. This draw tells you to stop and look at what are you doing. See how are you behaving in situations and take a close look at the facts.
Zodiac connections and key dates
The connected zodiacs are Aquarius & Pisces. The indicated key dates are February 9 to March 10.