Psychic-Synergy
Expert in: four of cups I'm here to guide and help you in every matter. If you want in-depth answers to clear the confusion, call now. Let's create a fantastic future! I am a
Chat Now
Offline

Currently Busy

The-Divine-Soul
Expert in: four of cups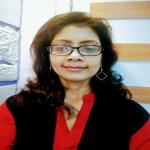 Detailed results through genuine reading , truth and no sugarcoating delivered with quick connections by world renowned astrologer. Let me help your s
Chat Now
Offline

Currently Busy

LifeClarity
Expert in: four of cups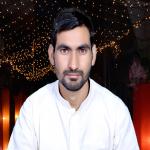 I'M FAST, ACCURATE & HONEST IN MY READINGS. NO FALSE HOPES. ONLY TRUTH NOTHING LESS.WHAT I SAY COMES TO PASS WITHIN SPECIFIED TIME FRAME IN MOST C
Chat Now
Offline

Currently Busy

The Four Of Cups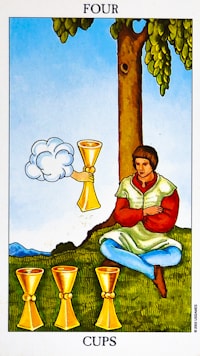 The Four of Cups shows a young man who is meditating under a tree. He is so deeply involved in his meditation, that he has not noticed a cup is in front of him. An arm coming from clouds is presenting him the cup. Another three cups are standing at his feet which here signifies the world and its luxury. He is not even paying attention to these three cups. Thus indicates that he is in a deep state of self-observation and exploration. He is trying to find answers within and is not getting distracted by any outside interferences. In this quest, however, he is also missing out on the gifts that life is giving him. But I guess everything comes with a price.
Personality traits indicated
Meditation, contemplation, unconcern, re-evaluation, self-discovery.
Upright indication
This cards usually draws when you are unhappy or bored with the current ongoing. You are feeling disconnected and unmotivated. Your life has become boring and there is a lack of enthusiasm. You need to reassess the situation and explore yourself to find the answers. Search for the truth from your inner self.
Reversed indication
When drawn reversed, the four of cups indicates that there is a good chance of an offer coming your way and you can miss it by not paying attention. It is right there in our grasp and you should snap it before you miss. This also suggests the reluctance that prevents you from opening up to people and sharing your inner feelings. This results in you isolating yourself and disconnection. You should become a little more considerate towards your loved ones.
Zodiac connections and key dates
Connected zodiac sign is Cancer. Key dates are July 12 to July 21