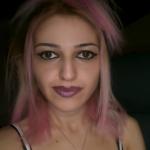 $1.99/minute
3 minutes free
no payment required
Currently Offline


Please check back soon
Currently Busy


Please check back soon
Specialties
Astrology Readings
Aura Readings
Breaking Up & Divorce
Career Forecasts
Cartomancy
Cheating & Affairs
Crystal Readings
Dream Analysis
Extra Sensory Perception (ESP)
Financial Outlook
Fortune Telling
Friendly Marital Life
Gay & Lesbian
Ghosts Parapsychology
Intimacy
Love & Relationships
Marital Life
Mediums & Reaching Beyond
Numerology Occult
Parents & Children
Past Life Readings
Pet Psychics
Psychic Readings
Single & Dating
Soulmate Connections
Tarot Readings
Transmutation of Energy
Esther
Description
I am a skilled Tarot and Lenormand cards reader with deep intuitive insight, Usui Reiki and Karuna Ki Master, Pendulum dowsers, natural born empath, highly sensitive, intuitive and spiritual yet open for any kind of questions. I prefer to give rational and reasonable answers to my clients, using my knowledge about the Tarot, intuition and logic. My pieces of advice are practical and useful in any life situation. I can give you an answer about love, relationship, business, what to choose between more options, the best choice, dream meaning, current situation and possible development, spiritual development, karmic relationship and karmic lessons. I am giving my best In order to help you deal with uncertainty, ease the worries, overcoming and prevent troubles, make the best chooses for yourself, advance in any aspect of life and being fulfilled.
Some of my specialties are:
Tarot reading (Rider-Waite, Thoth Tarot and other tarot decks based on these two)
Lenormand reading - Lenormand cards are oracle cards different than Tarot. Lenormand deck usually contain 36 cards, however, some modern versions have additional cards. I prefer classic Lenormand deck and Rana George Lenormand. Lenormand card reading is based on system, there are a few schools of reading, yet it allows intuitive interpretation too.
Playing cards reading - Cartomancy - This is the system of fortune telling based on reading a regular deck of playing cards. It is different than Tarot, Lenormand, Kipper, Gypsy and other systems of card reading.
Kipper cards reading - Kipper cards are oracle cards. Kipper deck has 36 cards, same as traditional Lenormand deck, but Kipper and Lenormand are two different fortune telling systems. Kipper cards reading is also based on a specific system.
Symbolon cards - This is a specific category of cards. They are not typical oracle or fortune telling cards, though can be used for that purpose as well. Symbolon cards offer deep psychological insights and connect us to the unconscious and subconscious world. They refer to resolving inner conflicts, personal issues, karma, to the roles we play in different situations and relationships and much more. Symbolon deck has 78 cards but it is not a Tarot deck, it is a different system of reading.
Reiki Master
Animal Reiki healer
Karuna Ki (Reiki) Master
Grand Reiki Master
Crystal healing and crystal properties - I love crystals and crystal healing, have a big collection of them myself and regularly turn to them. I can help you choose the right crystals for yourself or some specific issues because I learned a lot about them from practice and personal experience.
Pendulum Dowsing - it could be used solely or in combination with other systems, practices or techniques
Occult and Mysticism - I can help you in dealing with questions related to occultism, magic, mysticism and similar topics in a practical way
Dream Analysis - dream interpretation with or without using other tools and techniques
Lucid dreaming and Astral Projection - I can help you with that and providing some answers since I've been dealing with for a long time
I give readings on the next topics:
Love and romantic matters (LGBT included)
Business and career
Money and finances
Family and domestic affairs
Social life and friendships
Health (readings on health shouldn't be a substitute for professional advice)
Spirituality
Occult and magic
Messages from the other side
* Keep in mind you should be at least 18 years old in order to receive the reading
** Psychic reading is not a substitute for professional advice/help when it comes to medical, legal and financial matters
Privacy and confidentiality 100% guaranteed!